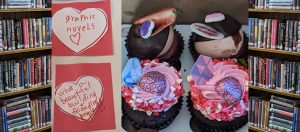 Join us for our next meeting on April 4th at 4PM at the library.
Check out the Friends of the Cobleigh Library Facebook page
Sign up for our email newsletter.
Save the Date
Cobleigh Library Plant Sale & Garden Day
Friday, May 26th and Saturday, May 27th at the library.
We hope to have a master gardener & a composter who can answer your questions.  The library will also have a display of gardening books for circulation.
We need your plant donations:
Extra vegetable starts
Divided perennials
Reseeding annuals & rooted branch cuttings
Houseplants
Volunteers are needed to make this event a success. Contact Martha Tack at mtackus@outlook.com for more information or if you are interested in volunteering.
About the Friends of the Cobleigh Library
Are you interested in helping the library provide a wide range of services to the community?  Please join us in collaborating and sharing ideas.  The Friends of the Library are looking for new volunteers and folks to help organize fundraisers, have fun and meet our community and neighbors.
If you are a Facebook user follow our page here to get all the Friends news and events.
The Friends of the Cobleigh Library are part of the Cobleigh library community and we organize fundraising events to benefit the Bookmobile and the library in general. We also provide volunteers for events.  There is no formal membership process, just let us know you are interested. Monthly Friends meetings are usually held on the first Tuesday of the month at 4:00PM at the library. Sign up for our email list to get notified of our meetings here.
Each season we organize a fundraiser.  In 2023, the following events are being planned. If you would like to help organize and/or volunteer at any of these events, email friendsofthecobleigh@gmail.com, please indicate which event you are interested in.
February – Bake Sale

Late May – Plant Sale

July – Summer Raffle

October – Book Sale
We hope to see you at our next meeting!