Books on Wheels III!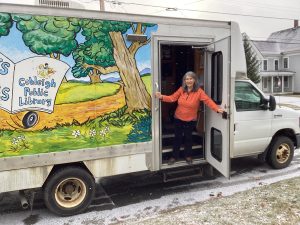 The Bookmobile is back in service! Any child care sites that are interested in starting this or have any questions, can call the library at 626-5475 or email the bookmobile directly: bookmobile@cobleighlibrary.org
The Cobleigh Library Bookmobile is entirely supported by grants, gifts, and donations. To help us continue to keep this wonderful and vital outreach tool on the road, please consider making a donation to the Bookmobile Fund. For more information, please call or email the library.
Thank you to all the donors who have contributed to the Bookmobile's operating budget!